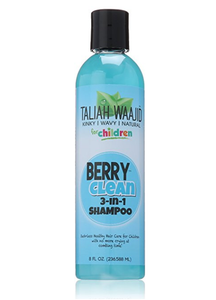 Taliah Waajid Natural Berry Clean Three In One, 8 oz
3 in 1 formula that cleanses, softens, and conditions in one session. Infused with quality ingredients and herbal extracts. Provides ouch-less, healthy hair for little ones.

The Berry Clean ™ Bilberry and Chamomile Formula cleanses, softens and conditions in one setting. Cuts hair shampooing sessions in half. Moisturizes and leaves hair soft and manageable. Quality ingredients and Herbal extracts and free of harsh chemicals. This gentle Berry Clean™ formula cleanses, softens hair to make it manageable. Follow the steps in the "How To Use" tab and you are on your way to ouch-less, healthy hair care for little ones.