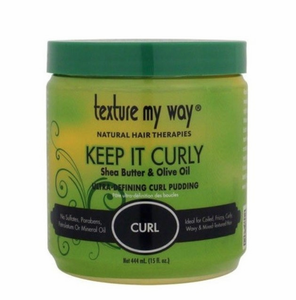 Texture My Way Keep It Curly
Ultra-Defining Curl Pudding is the ultimate solution for achieving luscious, elongated, moisture-rich curls that last all day. It controls and transforms dry, tangled, lack-luster hair into silky, healthy-looking, beautiful curls, coils and waves.
Super light-weight and non-greasy, KEEP IT CURLY Ultra-Defining Curl Pudding helps restore a healthy moisture balance, while taming frizz & minimizing shrinkage, Daily use allows you to define and create your best signature style. Whether you rock two-strand twists, kinky coils, long spirals, smooth waves, or any look that requires long-lasting, intense moisture, KEEP IT CURLY puts you in control.